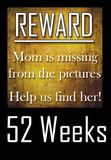 52 Weeks is a year long challenge for YOU to be in a picture once a week for 52 weeks. We are always the ones behind the camera, this is YOUR chance to get out in front and be in the pictures with your family. I love this challenge because I will have, at least, 52 pictures of me with my kids, all from one year!
Jake was resting up for a big trip!
Preview to the rest of our Catalina Trip: this dolphin (and about 40 others) gave us a show right next to our boat!
More pictures to come...