52 Weeks is a year long challenge for YOU to be in a picture once a week for 52 weeks. We are always the ones behind the camera, this is YOUR chance to get out in front and be in the pictures with your family. I love this challenge because I will have, at least, 52 pictures of me with my kids, all from one year!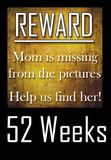 I truly am blessed. My children are healthy and happy and I
love
my husband! I have everything I want for Christmas, truly.